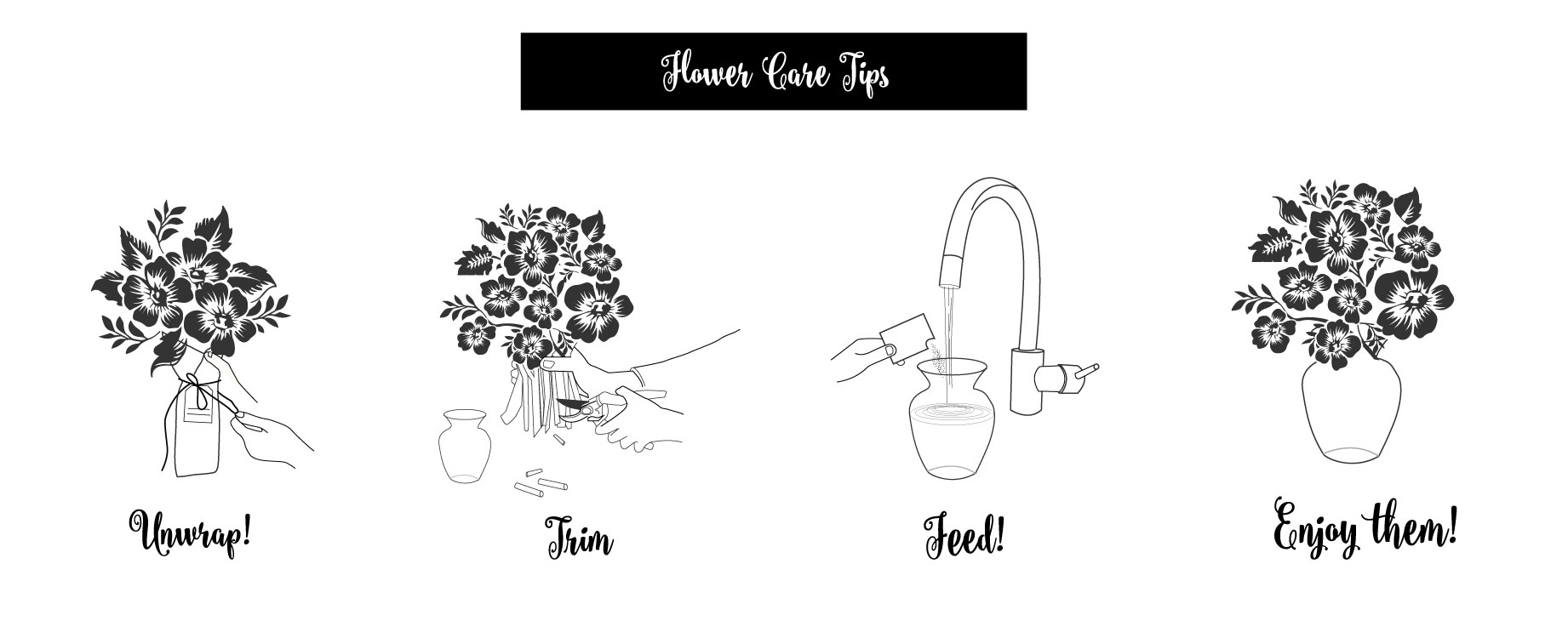 Fresh Flowers Care
---
Flowers deserves the best attitude. You need to treat it as gently as possible to let it bloom. You are very unlikely to face any difficulties when taking care of our flowers. However, we recommend considering some useful tips on making your bouquet look fresh and bright for as long as possible:

If the flowers come as a Hand-Tied Bouquet:
Make sure you have the vase prepared in advance. Poor 3/4 clean room temperature water into it mixed with food you will find with a bouquet.
It is high time you remove the package from the bouquet.(However, you can also leave it on if you like so,unless your bouquet is wrapped on a craft paper and it got wet)
Use clippers to cut the flower stems. Make sure you cut them at an angle about an inch off the stems. As soon as you are done with this stage, put your flowers in the vase at once.
If you want your flowers to stay fresh for as long as possible, you should change the water in a vase and cut the stems for several times a week.
Feel free to contact our specialists in case you need some professional assistance or advice.
If the arrangements comes in a Basket or Flower Box or other container with a floral foam:
Add some water every 2-3 days. Floral foam retains water and keeps the stems of the flowers hydrated while in the arrangement. Fresh cut flowers need fresh and plentiful water to stay fresh and vibrant; the key to long-lasting flowers in a floral arrangement is to make sure the foam stays moist.
---
Long Lasting Preserved Roses Care
With proper care, The Valentine Roses will last from a 1 year up to 5 years. Please follow these instructions to give them longer life:
Avoid putting the box of roses in direct exposure to sunlight.
Do not water them.
Do not remove the roses from the box.
Keep them in a room temperature environment, 60-75 degrees is ideal, keep them away from excessive sunlight, heat, or humidity.
DO NOT place anything on top of the boxed roses.
Dust them off from time to time.
---
Enjoy Your flowers either they are Fresh Flowers or Preserved ones! Take lots of pictures and share the love with us on social media using hashtag #FlowerHouseMiami & #TheValentineRoses and don't forget to tag us @FlowerHouse.Mia & @The.Valentine.Roses